3/16/11
So I just picked up this little chopper so I'd have something cool to run around instead of a sport bike.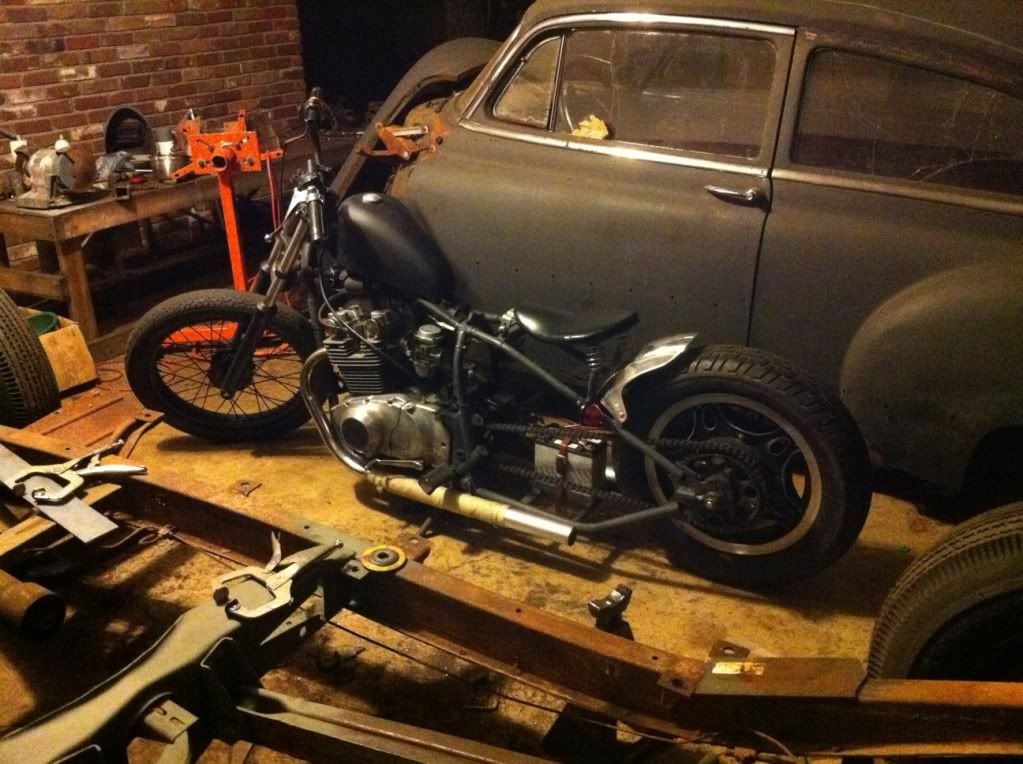 It's a GS450 motor (not sure what year), with a 16" comstar, 18" spoke disc wheel (no brake), with some cheap off the shelf chopper parts thrown on a crazy long hardtail. I think the guy who built it was something like 6' 6" tall, so I guess I understand it.... but when I sit on it the mid-controls feel like forwards haha.
Plans: Stinson and I are going to cut it up this weekend and improve the proportions. We'll shorten up the hardtail section to a suitable wheelbase and I'll probably cut out the triple backbone and put in a nice new single top tube. The comstar's offset is HORRIBLE. It's millimeters away from the tire rubbing on the non-drive side and inches away on the drive side. I forgot to take pictures of how bad the offset was, but I've already started on a solution to get the wheel a little more centered. Between the both of us we have some random wheels that we might be able to switch to if needed. As of right now I think I'd like to run the comstar in the rear with ripple moon discs and a 19 or 21 up front. Probably make a rigid tuck and roll seat conformed to the shape of a new fender/sissy bar arrangement.
Stay tuned, this one will get changed up pretty quick and then ridden A LOT.